Today's fave pick was the Mersman table (below) and I'm adding a lesson on picking. This table is one of the hot design trends- dark wood and brass together. You can see it in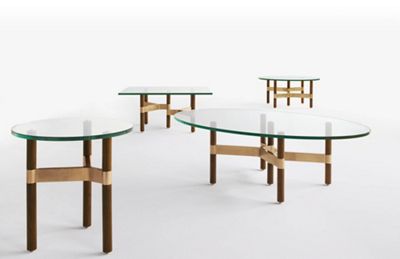 Design within Reach's new line called Helix
,
and in
Jonathan Adler's walnut furnishing
with brass accents.
The brass brings light and sparkle to the dark wood. This table has fantastic dark wood with a characteristic Formica top. Now don't be put off by Formica, it is a typical surface from the 50's and 60's and is extremely durable. Counter tops aside, I love finding a great Formica topped table. The desk I am currently writing from is Formica topped and I can set sweaty glasses of iced tea as well as big mugs of hot tea directly on it with no worries.
Picking always includes time spent with cleaners. And, on this journey I am remembering all the "old" cleaners for woods, metals, glasses and fabrics. Today's pick required a trip down memory lane to my childhood of staying with grandmother and great grandmother during the hot summer days and the weekly cleaning of the house. Windex, Pledge, Old English, Wright's Silver Cleaner each with their own cloth rubber banded to the bottle... they were very practical ladies devising the forerunners of the Windex wipe, Pledge wipe, etc. And, it is surprising how easy it is to clean with the results you would want with these older cleaners! And now that my cleaning cloths are all rubber banded back to the bottles, here is my pick of the picks for this weekend!

Interested in buying this Mersman 8198 table? Or need advise on cleaning, I'm getting really good with my deep knowledge of cleaning odd stains. Just ask!